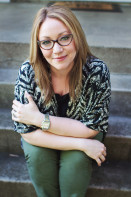 Amanda is a Licensed Marriage and Family Therapist as well as a Licensed Clinical Social Worker in the state of Kentucky. A Florida native, she earned a Bachelor of Science in Psychology from the University of Central Florida and went on to obtain a Master of Science in Social Work with a Specialization in Marriage and Family Therapy from the University of Louisville.
Amanda's approach to working with others is collaborative and strengths-based, valuing safety and the therapeutic relationship to create change together. She is passionate and experienced in helping people from all walks of life to live wholeheartedly through healing and growth.
Amanda is experienced in working with children, adolescents, adults, couples and families facing a variety of treatment issues including but not limited to:
Couples
Depression
Anxiety
Childhood emotional & behavioral problems
Self-esteem & Identity
Interpersonal relationship difficulties
Grief and Loss
Divorce/Separation
Infidelity
While drawing upon a number of evidenced-based techniques and interventions, Amanda works eclectically to best meet the needs identified by her clients.
Amanda is trained in EFT (Emotional Focused Therapy) and uses this as a foundation in her clinical work with couples and individuals alike.
Amanda is also passionate about supporting the growth, expansion, and education of Marriage and Family Therapists.  She is the former Executive Director of the Kentucky Association for Marriage and Family Therapists and former adjunct professor at the University of Louisville with the Kent School of Social Work's Master's program in Couple and Family Therapy.